HealthLink Spring 2014 issue
I contributed to this article in the Brown & Toland Physicians online newsletter. See pages 4-5.
http://issuu.com/brownandtoland/docs/brto1404nl_sf/1?e=10043436/8116721
FOODIESWEST.COM September 2013 issue
My book The New American Olive Oil is reviewed in this month's issue together with an interview with me.
Extra virgin olive oil buying guide
San Francisco Chronicle, August 18, 2013
Click here to see my article (now on SFGate.com) about how to choose a bottle of extra virgin olive oil.
http://www.sfgate.com/food/article/Extra-virgin-olive-oil-buying-guide-4739262.php#page-1
Pioneer Award from the California Olive Oil Council
Fran Gage - Recipient of the 2012 Pioneer Award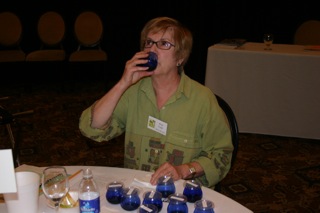 With an introduction by Nancy Ash (2011 Pioneer Award recipient) and Sandy Sonnenfelt, the 2012 Pioneer Award was presented to Fran Gage at the annual member meeting dinner on April 6, 2013. Fran, a talented sensory expert, enjoys a multi-faceted career, which includes being an author of multiple books, a journalist and a baking expert. As owner of Fran Gage Patisserie Française in San Francisco for ten years, Fran developed an early appreciation for high quality food and ingredients.

A member of the COOC and UC Davis Olive Center Taste Panels, Fran is a devoted olive oil educator and evangelist for quality extra virgin olive oil. Congratulations Fran!
Lunch with the California Olive Oil Council
Examiner.com, January 24, 2013
Karen Yencich reports on a lunch and tasting of new California EVOOs.
http://www.examiner.com/article/lunch-with-the-california-olive-oil-council?cid=rss
Bountiful Year for Olive Oil
San Francisco Chronicle, January 13, 2013
Click here to see my lead article in the Chronicle's Food and Wine section about the recent olive oil harvest, including four recipes.
http://www.sfgate.com/recipes/article/Extra-virgin-olive-oil-boom-in-state-4187486.php?t=85467250ce#photo-4013307
National Geographic Top Ten
Intelligent Travel Food Fridays, November 9, 2012
It's great to be included in the top ten culinary workshops. After a tour of the Old Chatham Ranch olive orchards and an opportunity to pick some Mission olives for curing, I led an olive oil tasting of Anderson Valley and other California extra-virgin olive oils, including some just-pressed olio nuovo.
One important correction: I am not the owner of the Old Chatham Ranch. Kit and George Lee own and live on this special property where they grow olives and wine grapes.
http://intelligenttravel.nationalgeographic.com/2012/11/09/food-fridays-10-great-cooking-classes/
Fall and Olive Oil Go Hand in Hand
UC Davis Olive Oil Newsletter, October 2012
My recipe for Apple and Parsnip Soup was reprinted by the UC Davis Olive Oil team.
http://us1.campaign-archive1.com/?u=4a48cc890c6d053f851944fa3&id=249e3b3838&e=8f8d4a38a0
Appetite Bias
The Ukiah Daily Journal, February 29, 2012, by Marilyn Campbell
"Through Gage's latest cookbook, a versatile kitchen essential gets a seat at the table."
http://www.ukiahdailyjournal.com/ci_20070984?IADID=Search-www.ukiahdailyjournal.com-www.ukiahdailyjournal.com
Extra-Virgin Olive Oil for Chanukah December 2011
Faye Levy interviewed me for her two recent articles in Jewish Woman and the Jerusalem Post about extra-virgin olive oil for Chanukah cooking.
Read the articles here:
http://www.jwi.org/Page.aspx?pid=3112
http://www.jpost.com/FoodIndex/Article.aspx?id=248503
Latest UC Davis Olive Center Report April 2011
Supermarket Olive Oils Tested
UC Davis has released a second report that evaluated the top-selling brands of olive oils labeled as "extra-virgin" sold in California stores. The oils were evaluated by two laboratories using standards set by the International Olive Council, as well as other methods used by Germany and Australia.
In addition, two IOC-accredited taste panels, including the UC panel, evaluated the oils. I am on the UC taste panel.
73% of the imported oils labeled as "extra-virgin" failed the taste panels' evaluation. They had defects that disqualified them as extra virgin. None of the Australian or California samples failed both taste panels.
Not all "extra-virgin" olive oils are created equal!
View the entire report at: http://www.olivecenter.ucdavis.edu/report%20041211%20final%20reduced.pdf
ScrumptiousPantry.com October 15, 2010
A Fall Celebration: Apple and Parsnip Soup
by Lee Greene

I enjoyed meeting Lee at City Olive in Chicago last month, and Lee has mentioned it and posted a recipe from The New American Olive Oil on her blog.
MercuryNews.com September 8, 2010
This bell (pepper) tolls for thee
by Jackie Burrell

A quote from Jackie's article on local bell peppers:
And San Francisco food writer Fran Gage, author of The New American Olive Oil (Stewart, Tabori & Chang, $29.95, 224 pages) uses red peppers in Spanish romescu sauce, Persian muhammara and that classic French picnic sandwich, Pan Bagnat. The latter is best eaten on a beach in Nice, she says, so you can rinse your hands in the Mediterranean Sea between bites. But then, that's probably true of most things.
LeitesCulinaria.com: June 25, 2010
Recipe Poetry or Practicality?
by Renee Schettler Rossi

A quote from Renee's article on food writing:
There are, of course, others. M. F. K. Fisher. Ruth Reichl. Judy Rodgers. Fran Gage. Whether soft-spoken, plainspoken, or outspoken, each of them knows how to linger rather than dally over a description that unfailingly mirrors their thoughts, their cooking experiences, and, at times, some measure of their very being. Take Gage, who in The New American Olive Oil disregards more humdrum, requisite descriptions for caramelized onions and instead paints them "the color of a polished mahogany table." What a lovely little interlude to happen upon while in the midst of making supper.
Pressing Times: The Olive Oil Source Newsletter

My book The New American Olive Oil is reviewed by Caroline J. Beck, May 14, 2010.
MarinIJ.com April 6, 2010
Cookbook Critic: You may never look at olive oil the same way again

My book The New American Olive Oil is reviewed by Christa Resing Colardo. The review also appeared in the print edition of the Marin Independent Journal on April 7, 2010.
Cookster.com March 2010

I was featured as Author of the Day on Cookstr.com on Tuesday, March 2, 2010.
Edible Paradise October 2009

I contributed an article to this beautiful web site supporting the Monterey Bay Certified Farmers Markets.
American Extra-Virgin Olive oil? Yes!
examiner.com October 12, 2009

Santa Cruz Restaurant Examiner Tara Fatemi Walker contributes a profile of me and a preview of the Aptos Farmers Market olive oil tasting and book signing coming up on October 17.
Edible Marin & Wine Country Fall 2009

I contributed an article to this new and noteworthy magazine: California's Other Golden Elixir.
Leite's Culinaria September 8, 2009

David Leite's popular and distinguished food blog features my Caramelized Onion and Balsamic Vinegar Bruschetta as Recipe of the Day. Also featured in the Eat it Now section are my Quinoa Salad with Pistachios and Cranberries and Semolina-Olive Oil Cake with Drunken Grapes.
Kitchen M August 10, 2009

Blogger Em reports on the Chocolate Chronicles session I did with Alice Medrich and Michael Recchiuti at SF Chefs. Food. Wine.
Food and Wine Talk July 27, 2009

Listen to my radio interview with hosts Simone Diament and Carole Kotkin by clicking here.
San Francisco Chronicle Books Sunday, June 14, 2009

The New American Olive Oil was chosen as a Top Shelf recommendation.
Read the recommendation by Readers Books here.
Project Foodie May 21, 2009

"With everything I learned about olive oil, I will now have to be just as discerning with my olive oil purchases as I am with my wine purchases…"
Read the review by Foodie Heather here.
Santa Rosa Press Democrat April 29, 2009

"These days, Fran Gage's kitchen always has at least three bottles of extra virgin olive oil."
Read the review by Staff Writer Diane Peterson here.
On the Menu April 26, 2009
I appeared on this nationally syndicated radio show with hosts Ann & Peter Haigh.
KRON4News April 25, 2009
I appeared live with KRON reporter Henry Tenenbaum on the KRON4 Weekend News.
5 second rule April 16, 2009

The Silicon Valley food writer Cheryl Sternman Rule said this on her blog:
I recently received a beautiful book called The New American Olive Oil by Fran Gage (Stewart, Tabori & Chang, 2009). With 75 recipes from apps to desserts, it celebrates this healthy fat in all its glory. I'm determined to make one of the olive oil based cakes soon, so stay tuned.
Read more at http://5secondrule.typepad.com
SF Culinary Travel Examiner April 16, 2009

"Secrets of the virgin world of olive oil tastes and trails" by Wanda Hennig.
Read more at http://www.examiner.com/x-6896-SF-Culinary-Travel-Examiner?selstate=mostrecent
San Francisco Chronicle April 5, 2009

Amanda Gold, Chronicle Staff Writer, said:
Purchasing olive oil these days can be a dizzying feat. Is it best to go for the more traditional Italian stuff? A particular varietal? Fruity or peppery? Mild? Robust? According to local chef and author Fran Gage, however, keeping it local - or at least domestic - isn't a bad idea. In her new book, "The New American Olive Oil," Gage narrows the choices by demystifying - and celebrating - American olive oil.
Read more, plus a recipe from the book, at sfgate.com.
Contra Costa Times April 1, 2009

The award-winning food writer and correspondent Marie Simmons wrote: "And now, thanks to a terrific new cookbook by local author and olive oil expert, Fran Gage, my California olive oil education is being enriched."
About.com: Local Foods March 2009

"A stunning book chock full of simple, modern recipes and everything you ever wanted to know about olive oil but were afraid to ask."
Read the review by Molly Watson at: http://localfoods.about.com/od/seasonalcookbooks/gr/newamoliveoil.htm
The Skillet Chronicles March 24th, 2009
"Chocolate and olive oil, oh my"

The food journalist Aleta Watson said on her blog: "Almost anything goes with chocolate, it seems.
It shouldn't be surprising then that dark chocolate and peppery extra virgin olive oil make such a stunning marriage in the almost flourless cake from Fran Gage's just-released book, "The New American Olive Oil" (Stewart, Tabori & Chang, 2009). The single-layer cake is at once dense, moist and amazingly light, with the silky smooth texture of velvet. Just enough of the oil's pungent bite hovers in the background to highlight the chocolate's subtly fruity character. I may never go back to butter."
Read more at: http://skilletchronicles.com/content/chocolate-and-olive-oil-oh-my/
WandaLUST March 2009

The web magazine WandaLUST said:
Yes, olive oil chocolate cake.
And olive oil chocolate truffles.
Also olive oil mashed potatoes.
And olive oil fries.
And why not?
Read more at: http://www.wandahennig.com/2009/03/if-it's-extra-virgin-it-must-be-olive-oil/
Publishers Weekly February 2009

Publishers Weekly said this about The New American Olive Oil: "Setting aside Spanish, Italian and Greek olive oils, Gage (Bread and Chocolate) profiles 15 American producers and highlights olive oil's merits to demonstrate the difference it makes in food and to emphasize that American oils can be as good as those from Europe. Gage's brief portraits of different oil companies are engaging and informative: at the outset, she explains olive oil fundamentals—production, the industry's American history, classification, food pairing—but the profiles bring it all to life as she describes visiting California groves and her conversations with the passionate people who run them. The recipes use olive oil both subtly (as in a red wine calamari stew) and overtly (mashed potatoes drizzled with olive oil, for example). The dishes, which generally require only intermediate kitchen skills (though sometimes above-average access to specialty ingredients, such as Persian lime olive oil), are mostly Mediterranean inspired, and in Gage's detailed introductions she often recommends specific oil varieties to use. Home cooks will be glad to come across this appreciation of a versatile and delicious ingredient."